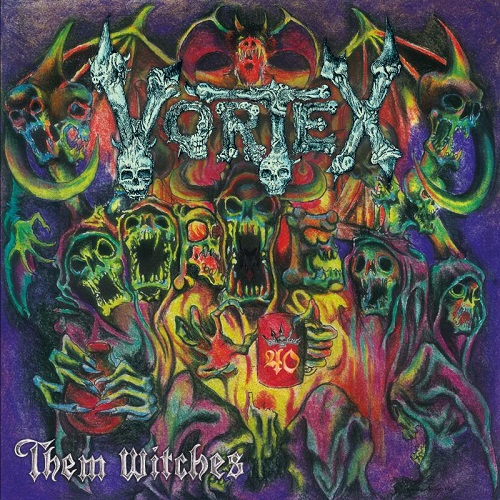 Vortex (Netherlands)
Old School Heavy Metal
Tracklist:
1. Spiritualien
2. Death At Dawn
3. I.C.U.
4. Them Witches
5. Gonna Hit You
6. Tremorial
7. No Breath
8. Fearless
9. Five Fall
10. Thirst Things First
Lineup:
Jurjen "Thunderforce" Tichelaar - Vocals
Martjo "Whirwolf" Brongers- Guitar
Orion Roos – Guitar
Harm Ten Hoove - Bass
Henk Bosma - Drums
I saw this album on Youtube and decided to give it a listen. I had never heard of Vortex before today. Did a bit of digging online and discovered that Vortex has been around since 1979. Them Witches is their 40th anniversary album and is comprised of songs from old demos which were originally going to appear on an album in the mid 80's (which never came to fruition) but have been re-recorded for Them Witches . I enjoyed listening to Them Withches and feel this band should get more recognition, they are vastly under-rated, so I decided to write a first impression!!.
The entire album is good and very reminiscent of NWOBHM style riffs and hooks but still has a fresh sound. I am a big fan of the NWOBHM bands, so it is refreshing to still hear an extremely classic sound coming from an album of 2019. The vocalist doesn't reach the high notes like you hear from other classic vocalists of Judas Priest or Iron Maiden, but he is a good vocalist, with a strong and gritty voice, and is quite fitting for the music. The music is powerful, percussion heavy, and harmonious.....very infectious with an outstanding twin guitar groove. Them Witches filled me with a rapture that I get when I listen to any 80's heavy metal (which is where Vortex's' roots began) , and I think this is what Vortex was aiming for/ and achieve with their 40th anniversary album..........
Once you listen to the opening track, Spiritualien, you will be curious and satisfied enough to continue with the whole album....
Death at Dawn reminds me of Mercyful Fate.....
Full Album, if you wish to hear more.