Administrator
Staff member
Joined

Mar 27, 2018
Messages

1,745
Age

52
Location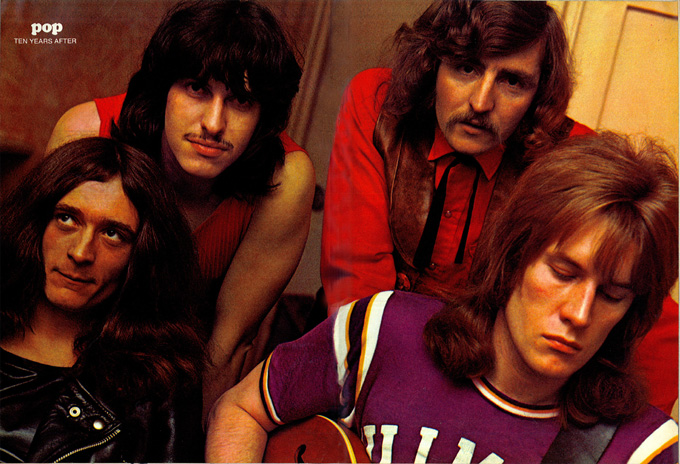 Official Website:
Ten Years After
Members:
Alvin Lee
Leo Lyons
Chick Churchill
Ric Lee
Albums:
Ten Years After (1967)
Stonedhenge (1969)
Ssssh (1969)
Cricklewood Green (1970)
Watt (1970)
A Space In Time (1971)
Rock & Roll Music To The World (1972)
Positive Vibrations (1974)
About Time (1989)
Now (2004)
Ten Years After is an English blues-rock band, most popular in the late 1960s and early 1970s. Between 1968 and 1973, Ten Years After scored eight Top 40 albums on the UK Albums Chart. In addition they have had twelve albums enter the US Billboard 200, and are best known for their tracks "I'm Going Home", "Hear Me Calling", "I'd Love to Change the World" and "Love Like a Man". After several years of local success in the Nottingham/Mansfield area as a band known since 1962 as The Jaybirds (its core was formed in late 1960 as Ivan Jay and the Jaycats), and later as Ivan Jay and the Jaymen, Ten Years After was founded by Alvin Lee and Leo Lyons. Ivan Jay sang lead vocals from late 1960 to 1962 and was joined by Ric Lee in August 1965, replacing drummer Dave Quickmire, who had replaced Pete Evans in 1962. In 1966 The Jaybirds moved to London, where Chick Churchill joined the group. That November the quartet signed a manager, Chris Wright, and decided to change its name to Blues Trip, Blues Yard (under which they played a show at the Marquee Club supporting the Bonzo Dog Doo-Dah Band), and finally in November 1966, to Ten Years After. This name was taken in honor of Elvis Presley, an idol of Lee's; Presley's year of enormous success - 1956 - accounts for the band's name. The group became the first act booked by the soon-to-be Chrysalis Agency. It secured a residency at the Marquee, and received an invitation to play at the Windsor Jazz Festival in 1967. That performance led to a contract with Deram, a subsidiary of Decca – the first band so signed without a hit single. In October, its 1967 self-titled debut album was released.
Last edited: