​
Current Members:
Albums:
Rainbow began as a side project of Blackmore. He was unhappy with Deep Purple over a couple songs he wanted to record and the band rejected them. He hooked up with Dio and called the new project, Ritchie Blackmore's Rainbow, and used the band members of Elf to record the first album.
Blackmore cut loose the Elf band members and hired Cozy Powell, Jimmy Bain, and Tony Carey with Dio remaining as vocalist. They recorded the second album as Rainbow. This second album,
Rising,
redefined heavy metal from the opening track to the opus recording, "Stargazer" then finishing off with the heavy hitter A Light in the Black. Stargazer is a masterpiece!
I feel this album defined the direction Dio took his career and inspired many bands after them.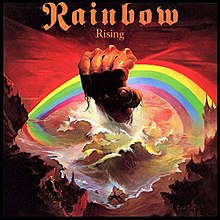 Stargazer
The first album contains one of the most recognizable riffs and songs.....
Man On The Silver Mountain