Album:
Diary of a Madman
Artist:
Ozzy Osbourne
Country of Origin:
UK
Genre:
Heavy Metal / Hard Rock
Released:
November 7, 1981
Label:
Jet Records
2nd Remix & Release:
2002 by Sony Music
30th Anniversary Restoration & Release:
2011 Legacy Edition by Epic / Sony
Link to detailed information about every Diary of a Madman release
Purchase:
1981 Vinyl Here
and
2011 Legacy Edition Here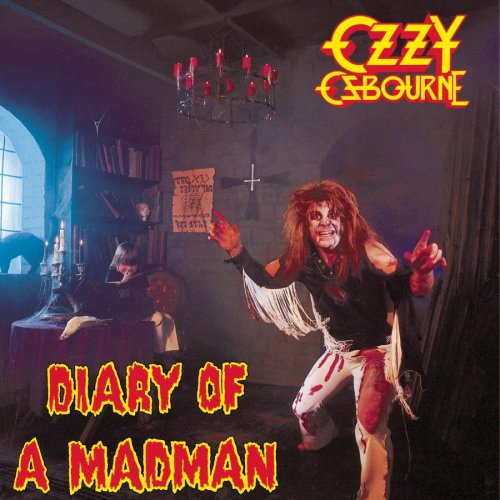 1."Over the Mountain"
2."Flying High Again"
3."You Can't Kill Rock and Roll"
4."Believer"
5."Little Dolls"
6."Tonight"
7."S.A.T.O."
8."Diary of a Madman"
Personnel:
•Ozzy Osbourne – Vocals, Producer, Harmony Vocals
•Randy Rhoads – Guitar, Producer
•Bob Daisley – Bass, Gong, Producer, Harmony Vocals
•Lee Kerslake – Percussion, Drums, Bells, Tympani
•Johnny Cook – Keyboards (uncredited)
For all those connoisseurs of the heavier things in life, I present you "Diary of a Madman". Another land mark release from the Ozz. One thing that can be said of Ozzy, he always has surrounded himself with the best musicians and six stringers over the years, and the original cut of this album has the best- Randy Rhodes, Bob Daisley, and Lee Kerslake, with a great keyboardist, Johnny Cook, who ultimately didn't receive credits on the original. Ozzy was funny that way, not giving the credits to his musicians, and I feel this is his biggest musical business flaw.
The tracks for this album were made at the same time as "Blizzard of Ozz". Some would say the best tracks went on "Blizzard", but I disagree. "Diary of a Madman" has a great production, a production that was a bit more polished than "Blizzard", and the songs are very consistent throughout the whole album. The consistency in this album is Randy, Bob, and Lee and these three musicians will always be linked to Ozzy, whether he likes it or not. "Diary of a Madman" has its flaws, like the vocals appearing to be 'placed' on the songs, and the lyrics are seemingly generic at times. Don't misunderstand me here, Ozzy is very coherent and has no filler in his vocals, and uses his vocal talents to the utmost in this album. What catches my attention the most on "Diary of a Madman" is the fact that this album doesn't contain the catchy mainstream singles that "Blizzard" had. "Diary of a Madman" has a musical flow to the songs, there doesn't appear to be any chops between songs or like any of the songs are out of place. This to me makes "Diary" the better of the two albums. This album definitely sealed Ozzy's influence in metal history, laying down the tracks that would bind heavy metal and hard rock together forever. The band made perfect pace transitions between hard rock and metal, and made the transitions seamless, and that is metal history!
The Original 1981 vinyl album paper inner sleeve with band members incorrectly listed: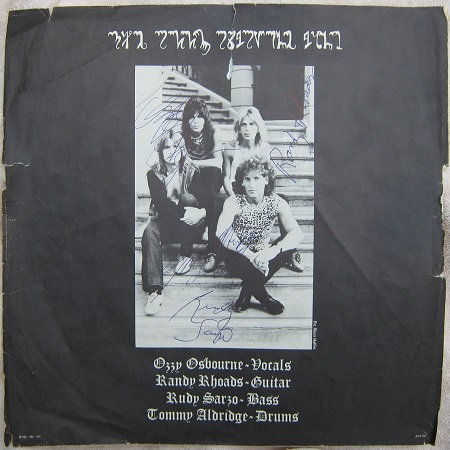 No review is complete without mentions of the ghastly business decision to remix and release this album (and Blizzard of Ozz) in 2002 with the sole purpose to remove the Bass and Drum tracks by Bob Daisley and Lee Kerslake. This was a retaliatory move because Daisley and Kerslake had successfully won song writing credits in court. These credits were not given to Daisley and Kerslake on the original release. Those tracks were replaced in 2002 with tracks by Robert Trujillo (bass) and Mike Borden (drums).
Shame, Shame!!!
Later 2002 releases did add reissue information: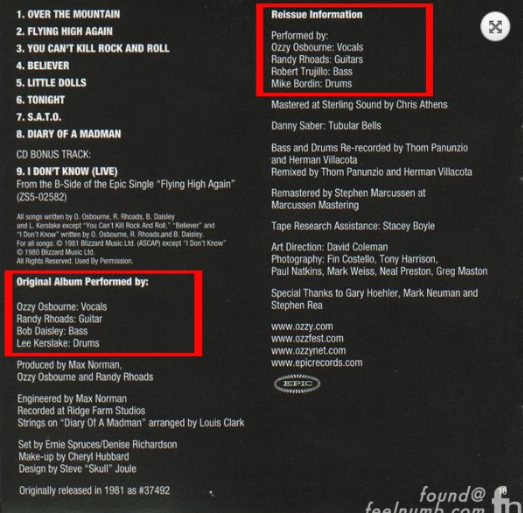 Over the Mountain

Flying High Again

My Rating for the album: 5/5 (but I should take points off for the ghastly 2002 crap)