​
Official Website
Albums:
(with links to album info)
Member Themes:
Tobias Forge

–

vocals

(2008–present)

Papa Emeritus – vocals (2008–2012)
Papa Emeritus II – vocals (2012–2015)
Papa Emeritus III – vocals (2015–2017)
Papa Emeritus 0 – vocals (2017–present)

Nameless Ghouls – all instrumentalists:
Ghost is a Swedish heavy metal/ doom metal band. Not all their music is real heavy, some is nothing more that excellent melodic hard rock. I discovered this band right after the release of 2015's Meliora with the song "Circle" and have been hooked since.
The band, known as "Nameless Ghouls", being cloaked in complete anonymity until recently, when former band members filed a lawsuit against the lead singer....Tobias Forge aka Papa Emeritus, . Until this, Tobias Forge was unknown.
Ghost is known for it's theatrical performances. The band uses their affection for horror films as part of their imagery. The band has been very popular with metal fans due to the occult style performances and grandiose effects. Papa Emeritus takes on a new identity with each album release and appears to get younger. It is a fascinating theatrical and artful approach to music!
The 2010 debut album, Opus Eponymos, has a surprisingly melodic sound. This album blends together a variety of styles from Psychedelic to NWOBHM.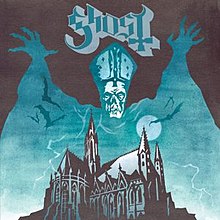 A very interesting and very melodic cover of the Beatles "Here Comes The Sun"
2013 EP If You Have Ghosts (produced by Dave Grohl and Grohl reportedly has been a Nameless Ghoul)
Last edited: