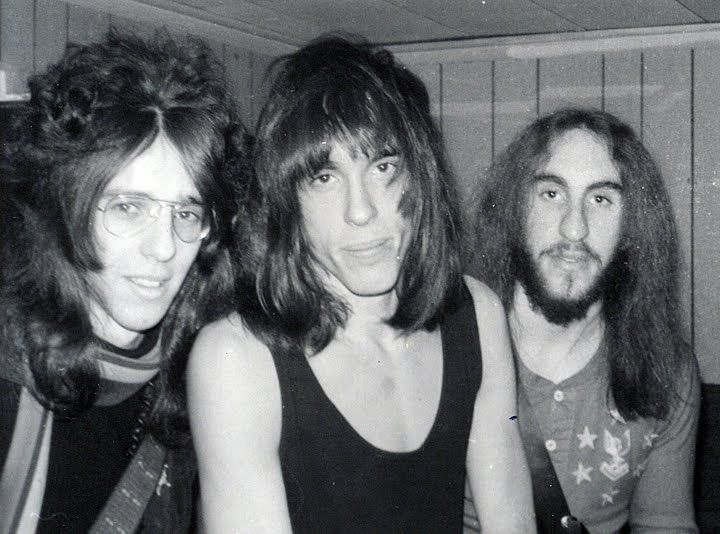 \
Left to Right: Kenny Aaronson, Marc Bell (AKA Marky Ramone), Richie Wise
Members:
Richie Wise - electric and acoustic guitars, vocals

Marc Bell

- drums

Kenny Aaronson

- bass, steel, dobro and bottleneck guitars
Albums:
Dust (1971)
Hard Attack (1972)
Dust was an American hard rock / blues rock / heavy metal band active in the early 1970's. They put out 2 studio albums, then dissolved due to a lack of promotion.
This is another one of those underrated, under appreciated, and forgotten bands that has some historical significance. Marky Ramone went on to a very successful career with the Ramones and the Misfits and is currently an on air host for Sirius XM "Punk Rock Blitzkrieg. Kenny Aaronson has had a very successful career playing and recording with artists such as Billy Idol, Hall & Oates, Joan Jett and the Blackhearts (he was a Blackheart from 1991 - 1995), Foghat. Billy Squire, Edgar Winter, Rick Derringer, and many others. In 1988 he was voted bassist of the year by Rolling Stone Magazine. Richie Wise went into production, he is noted for production with Kiss for their first two albums and production for Gladys Knight and the Pips "Imagination" album, and production for Savoy Brown's album "Rock N Roll Warriors".
Stone Woman
Love Me Hard
Full Album: