Album:
Ritual
Artist:
Tygers of Pan Tang
Country of Origin:
England
Genre:
Heavy Metal / Hard Rock
Released:
November 22, 2019
Label:
Mighty Music
Purchase:
CD here
,
Vinyl here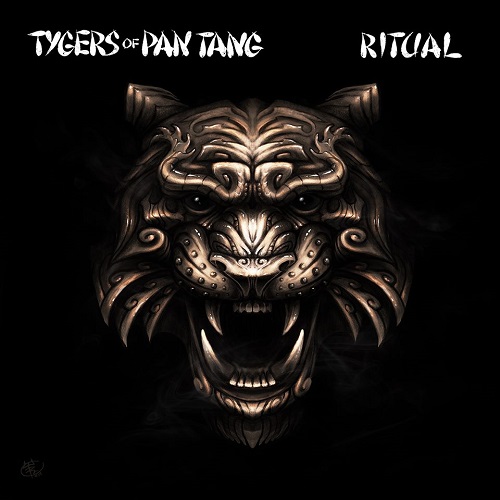 Worlds Apart
Destiny
Rescue Me
Raise Some Hell
Spoils of War
White Lines
Words Cut Like Knives
Damn You!
Love Will Find a Way
Art of Noise
Sail On
Personnel:
Rob Weir - Guitars
Mickey Crystal - Guitars
Gav Gray - Bass
Craig Ellis - Drums
Iacopo Meille - Vocals
Tygers of Pan Tang have been around since the late 70's and were part of the NWOBHM movement. Tygers of Pan Tang are not one of the heavy hitter bands of that movement nor are they obscure, they have always been a good band that puts out great music. They have been plagued with break ups, disagreements with record labels, and band member changes over the decades, which isn't uncommon for heavy metal bands. The only original member remaining is Rob Weir. Iacopo Meille has been vocalist for the band for almost 15 years and his voice is smooth, clean, and I would compare him to Geoff Tate, which means he is a first-class vocalist. The guitar team of Crystal and Weir is intense. Add to that intensity thunderous drums and hefty bass beats and the melodic team is complete.
I find it interesting and fitting that the album title is "Ritual" because the album sticks to a consistent sound, formula, and slick production that was very popular from the bands of the NWOBHM. I would easily compare this album to "Spellbound" of 1981, the break through album for Tygers of Pan Tang. The opening track, "Worlds Apart", delves into what fans of the 80's heavy metal scene loved the most: Riffs, big hooks, killer solos, and soaring harmonies. The opening guitar and blasting drums draw you in right from the start. The vocals in this song is what brought me to compare Meille to Tate (he sounds a lot like Geoff).
"
Destiny" is the last single released from the album. It is catchy and doesn't step out of the all-too-common, but extremely enjoyable, rock formula. They do use a really neat feature of opening the song like it is playing from a weak car radio or something...then the song blasts through the speakers.
"Rescue Me" is a meaty song that pummels you with bass thumps. I like the harmony and raspy vocals. This is a memorable song, no doubt.
"Raise Some Hell" is a fast paced rocker. The Malmsteen-like shredding solos are very cool.
"Spoils of War" continues in that awesome melodic, engaging, and memorable song structure. The vocals soar, the riffs are outstanding. This song has attitude! This is one of my favorites off the album.
"White Lines" is the first single from the album. It's fast paced, catchy, and reminds me off all those "hard roads travelled" anthems of the 80's.
"Words Cut Like Knives" is my top pick off the album and rightly so......It's a BALLAD!! It does have its hard rocking moments though, and a beautiful solo, too.
"Damn You" is the second single off the album. It is one of those songs that says "Hard Rocking Songs Aint Dead, Not Even Close"
"Love Will Find a Way" has a contagious hard rock melody. Nothing new or cutting edge, just a comfortable old sweater.
"Art of Noise" is the heaviest song on the album. The guitars are furious. Hooks galore!! A real ass kicker....
"Sail On" is a mid-tempo power ballad and the longest song on the album. It has a some great solos and does pick up the pace towards the end of the song. A nice closing to the album.
Overall, this is an album that is well done with outstanding production. I like the flow of the album. The dual guitars are fabulous and I like the fact you can actually hear the bass. The lyrics are well written, and not cheesy at all. Tygers of Pan Tang fans will definitely love this album. Be sure to crank it to 11
My Rating 4/5.
Full Album Playlist