Joined

Mar 28, 2018
Messages

501
Location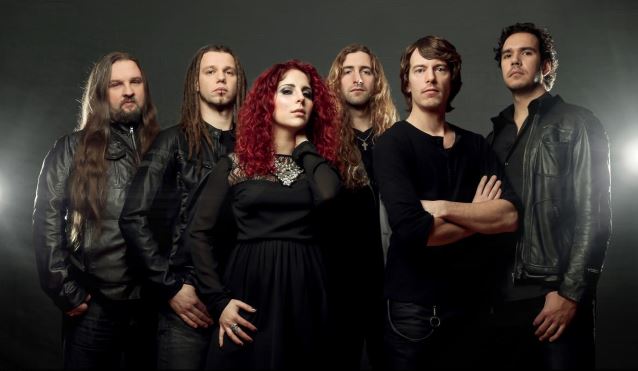 Final lineup:
Marcela Bovio - lead vocals, violin
Eric Hazebroek - lead guitar, rhythm guitar
Stephan Schultz - lead guitar, rhythm guitar
Johan van Stratum - bass
Jeffrey Revet - keyboard, synthesizer, piano
Martijn Peters - drums
Notable former members:
Albums:
Stream of Passion was a Dutch symphonic/progressive metal band formed in 2005 by Arjen Anthony Lucassen, a Dutch guitarist/composer, and Marcela Bovio, a Mexican singer/songwriter/violinist. In some ways, they were largely a product of the Internet. Arjen and Marcela had previously worked together on an album for Arjen's musical project, Ayreon, for which Marcela was selected through a female Internet singing contest. Their debut album,
Embrace the Storm
, was actually composed over the Internet, since the band members at the time all lived in separate corners of the world.
Arjen and Lori Linstruth, who were (and still are) an item, and Alejandro Millán, who had previously formed the band Elfonia with Marcela, left the group in 2007. They signed with Napalm Records for
The Flame Within
and
Darker Days,
and after leaving Napalm in 2012, they started an Indiegogo campaign to fund their final studio album,
A War of Our Own.
Sadly, they amicably split up in 2016, leaving us with a live album/DVD,
Memento
, and a few farewell shows.
I find their sound somewhat unique in that it's generally a little more relaxed than others in this subgenre. Being more of a progressive band, the instrumentation and vocals vary in intensity and pace throughout. Marcela has a gentle yet powerful and passionate singing voice that I love, and her violin adds a nice touch to the mix. I like the quieter, calmer parts of the songs when the bass work from her now husband, Johan van Stratum, is front and center. I also dig the somewhat moody piano/keyboard work interspersed throughout, particularly on songs like the title track from
A War of Our Own.
Everything just blends together very nicely.
While all of their albums that I've heard so far have their highlights, my favorite is probably
A War of Our Own.
The only one that I have yet to hear is
The Flame Within
, which is probably going to change now that I've created this thread.
Marcela now does vocals for Epica guitarist/vocalist Mark Jansen's band MaYaN, and she's done a couple of solo albums,
Unprecedented
and
Through Your Eyes.
And oh, by the way, she's a total cutie!
Passion (from Embrace the Storm)
Lost (from Darker Days)
Monster (from A War of Our Own)
A War of Our Own (title track from that album)
The Curse (from A War of Our Own)
Burning Star (from A War of Our Own)