Album:
Rust in Peace
Artist:
Megadeth
Country of Origin:
USA
Genre:
Thrash Metal / Speed Metal / Heavy Metal
Released:
September 24, 1990
Label:
Capitol Records
Purchase:
HERE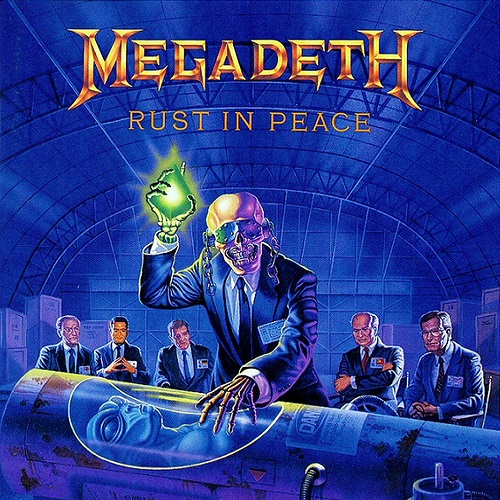 1."
Holy Wars... The Punishment Due
"
2."
Hangar 18
"
3."Take No Prisoners"
4."Five Magics"
5."Poison Was the Cure"
6."Lucretia"
7."Tornado of Souls"
8."Dawn Patrol"
9."Rust in Peace... Polaris"
Rust In Peace is the defining album for Megadeth. This album raised the bar for all thrash bands to come and matched the abilities of rival band Metallica (I wont get into why Metallica is a rival, but I'm sure you know Dave Mustaine was fired from Metallica). Rust in Peace delivers complexity, speed, ambition, passion, an exploration into song tempos, and a heaviness that slaughters the listeners. Rust in Peace is the album that pulled Megadeth from the underground to the top of the metal heap with arguably one of the best albums in thrash metal history and definitely the high point in Megadeth's career.
In 2010, Megadeth did the entire album live and released it on DVD, CD, and Blu-Ray as a 20th anniversary celebration. For some odd reason, the entire DVD has been hanging around on youtube since 2013.......if you're interested, I've posted it below.
If you were to make a 10 song mixtape of the best thrash songs by the Big 4, a couple songs off Rust in Peace would no doubt be on that mix. First song on that mixtape would be (at least my mixtape) Holy Wars......The Punishment Due. This song has a valiant display of technical precision and complexity. This two part masterpiece is Dave Mustaine's best vocal performance and showcases how excellent he is at songwriting. I am not a big fan of Dave's snarly, incoherent vocals, so for me to say Holy Wars....The Punishment Due is his BEST...says a lot. Second on my mixtape would be Hangar 18. The guitar work on Hangar 18 is ridiculously outstanding. The solos are blistering and the way Marty and Dave play off each other is what made this song a top notch "Best Of" track. Next, I would have to include Tornado of Souls. Dave's vocals are just "OK" (with the help of backing vocals), but the killer solos and a powerful drum backdrop more than make up for the not-so-good vocals. This song, lyrically, is a very personal and emotional song, and you just don't get too many "personal" thrash songs..........which is another reason why I would include it on my mixtape......
Overall, I really like this album. It does have it's low spots, like Dawn Patrol, which seemed out of place on the album. Rust in Peace also contains a hidden gem with Five Magics, even though lyrically this song is a wee tad silly. I would brand Rust In Peace as Megadeth's best album.
My rating: 4.5/5
Full Album Playlist