Album:
Vulgar Display of Power
Artist:
Pantera
Country of Origin:
USA
Genre:
Groove Metal / Thrash Metal / Heavy Metal
Released:
February 25, 1992
Label:
ATCO Records
Purchase:
Here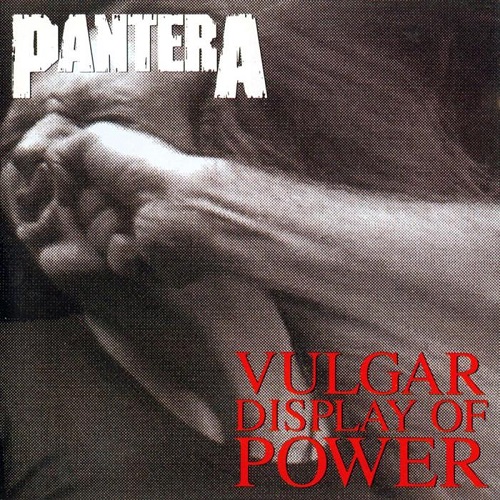 1."Mouth for War"
2."A New Level"
3."Walk"
4."Fucking Hostile"
5."This Love"
6."Rise"
7."No Good (Attack the Radical)"
8."Live in a Hole"
9."Regular People (Conceit)"
10."By Demons Be Driven"
11."Hollow"
Personnel:
•Philip Anselmo - lead vocals
•Dimebag Darrell – guitar, backing vocals
•Rex Brown – bass, backing vocals
•Vinnie Paul - drums
There are 3 words to describe "Vulgar Display of Power"; Hostile, intense, and powerful. This album became an innovative moment for Pantera, and made Pantera the godfather of groove metal. Vulgar Display of Power is the 6th studio album by the band and what I would consider their best effort to date. Pantera had shed their glam metal image and now were treading in new waters, mixing hostile and extremely loud sounds with heavy and dark guitar riffs and taking anger to a new level. Just listening to this album made my insides quake and shudder and my teeth clench!
The band's precision on this album is unfaltering. Vinnie, with his insane double bass, which is not always the fastest but always delivered with precision. Dimebag, delivers a deep crunch of excellent guitar riffs one after the other that are filled in nicely with the groovy bass lines by Rex. The vocals of Anselmo fit the music nicely, from a deep gnarly shout and growl to a beautiful choir boy voice.
Vulgar Display of Power shocked the world with its #1 debut on the charts, making this the 'heaviest' metal album to ever hit that high on the music charts upon release. You won't find any songs to pat your foot to, or candy coated pop songs, but instead will discover that every song on this album is a brutally perfect display of power. This album came out in a time of musical despair for something new, and it delivered the goods.
full album
Rating: 4/5