Joined

Mar 28, 2018
Messages

216
Location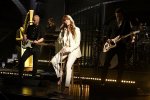 Official Website
Current members:
Albums:
Florence and the Machine are an English alternative/indie pop rock band. They were one of the first bands I checked out in this genre when I started looking for softer music a few years ago. Sound-wise, they're about as poppy as I get, and there's a lot of different stuff going on in the background at times - keyboards, horns, a friggin' harp, clapping, etc. Lyrically, their songs are mostly about love and relationships, which I suppose is to be expected from a more poppy band. I don't normally like too much of that in my music, but man, Florence's voice and delivery are just so powerful. I could listen to her all day long.
I listened to some of their debut album, Lungs, and I thought it was all right, but I wasn't crazy about it, and I didn't get all the way through it. I felt the same way about Ceremonials. Then How Big, How Blue, How Beautiful came out, and I was really impressed. I like moody alternative rock with a lot of bass in it, and some of the songs on there really hit that spot for me. I need to go back and listen to their older stuff again at some point.
This is one of their most popular songs, from Lungs.
Here's the opener from How Big, How Blue, How Beautiful. This song has a little of that aforementioned moodiness in it.
This is one of my favorite tracks from How Big, How Blue, How Beautiful. Modern alt-rock melancholy in full effect. I love it.
Here's the video for Hunger, the second single from High As Hope, which is coming out on June 29th. Not sure if I'll get it or not, but this song isn't bad.