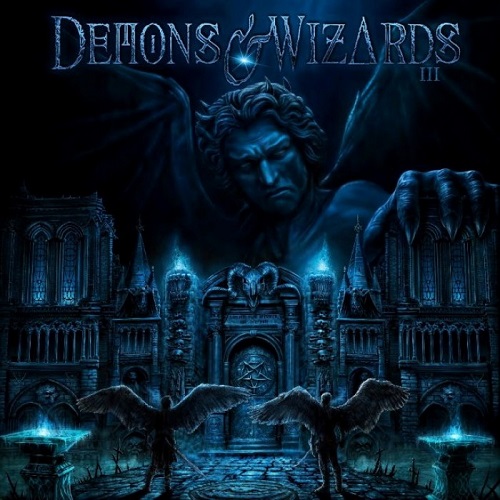 Demons & Wizards (Germany/USA)
Power Metal, Progressive Power Metal, Progressive Metal

01.Diabolic
02.Invincible
03.Wolves In Winter
04.Final Warning
05.Timeless Spirit
06.Dark Side Of Her Majesty
07.Midas Disease
08.New Dawn
09.Universal Truth
10.Split
11.Children Of Cain
Album Personnel:
Hansi Kursch - Vocals

PA'dam Chamber Choir - Backing vocals

Jon

Schaffer - Guitars, Bass, backing vocals

Jake Dreyer - Guitars

Jim Morris - Guitars. backing vocals
Ruben Drake - Bass

Brent Smedley - Drums
It has been fifteen years since this super group power metal duo has put out an album and it was worth the wait.
III is magical and epic!!! The entire album is full of power, melody, atmosphere, and story telling like only this duo can create. The vocal atmosphere that is created by Hansi's voice and all the lush backing vocals is stunning. IMO, the best display of all the lush vocal layers is best observed in "Timeless Spirit", which also has great guitar moments with Jon Schaffer breaking out the acoustic. This is my song pick off the album. Even though the song is long, it gives Jon a chance to show off his progressive guitar prowess.......
I really like this album. I like all the lush vocals. The production is pristine. The guitar work is absolutely stunning...with sprinkles of acoustics throughout. You even get a small dose of AC/DC like vibes with "Midas Disease"....which was a surprise for me!
My overall rating 4.5/5. Well Done!