Album:
Transcendence
Artist:
Crimson Glory
Country of Origin:
USA
Genre:
Heavy Metal / Power Metal / Progressive Metal
Released:
November 14, 1988
Label:
Roadracer Records
Purchase:
Here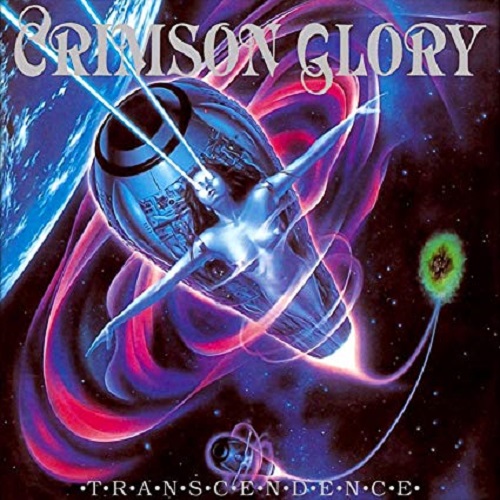 1."Lady of Winter"
2."Red Sharks"
3."Painted Skies"
4."Masque of the Red Death"
5."In Dark Places"
6."Where Dragons Rule"
7."Lonely"
8."Burning Bridges"
9."Eternal World"
10."Transcendence"
Personnel:
For those of you who do not know who Crimson Glory is, they are in the same music vein as Queensryche & Fates Warning and a lesser know Italian band also of the 80's, Moon of Steel (I will definitely get to them at a later date). Queensryche, Fates Warning, and Crimson Glory have been credited for early development of a progressive heavy metal genre with a huge exception......Crimson Glory didn't get the fame and fortune of Queensryche. I feel Crimson Glory is every bit as talented as Queensryche and Fates Warning. Some say Transcendence is the peak for Crimson Glory; their masterpiece album.........I happen to like all 4 albums and rate all of them highly but I am partial to the first 3 albums with Midnight.
One thing I can say for Crimson Glory is they knew the value of a killer album opening. Even their last album, Atronomica, has a heavy hitting instrumental track. Transcendence opens with "Lady of Winter" and hits you head on with a thumping and catchy riff. When Midnight chimes in with his high-pitch, melodic voice, you are hooked. The heart pounding intensity keeps going with "Red Sharks" where Midnight changes things up to a speedy delivery, which fits nicely with the catchy dual guitars.
Let's slow things up a bit to catch our breath and let our heart beat return to normal with the melancholy balladesque "Painted Skies". The vocals are very clean, the guitars open as somber acoustic then click over to electric and pick up the pace once you are about a minute into the song. I like this song, as I do with most ballads, but it is not my pick off the album....
Picking up the pace once again to a pounding fury with "Masque of the Red Death" and some wailing guitar solos. Next is my pick off the album "In Dark Places" which has a haunting melody with soaring vocals that put my head in the clouds along with epic guitar solos. "Where Dragons Rule" keeps the pounding fury going along with an extremely catchy riff.
"Lonely" would be the most commercial song on the album. There was a video made for this song, hence giving it the title of most
accessible.
I feel it is another good song with great solos and outstanding vocals.
"Burning Bridges" is another ballad, but it is more dynamic and progressive than "Painted Skies". This song is very heart felt and would be my second pick off the album. "Eternal World" is another burning example of speed and power. The title track "Transcendence" closes the album with picking acoustics and an ethereal feel that takes you to a fading end of emptiness........
Overall, this album is entertaining to listen to and just as relevant today as it was back in 1988. The crowning glory is the ever changing vocal styles of Midnight. He can go from a deep gritty gravel to a clean mid-range to a high-pitch scream with ease. Transcendence makes use of a variety of musical styles, from raw power and speed to a nice sprinkling of progressive complexity. The musicianship is outstanding as well as the production.
My Rating: 4.5/5