Joined

Mar 28, 2018
Messages

501
Location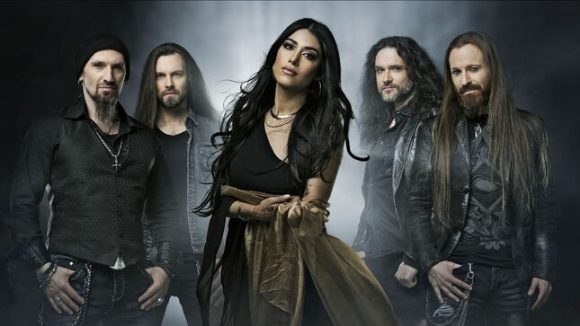 Official Website
Current members:
Ambre Vourvahis (vocals)
Marco Heubaum (rhythm guitar)
Rob Klawonn (lead guitar)
Tim Schwarz (bass)
Dimitros Gatsios (drums)
Notable former members:
Dianne van Giersbergen (vocals)
Manuela Kraller (vocals)
Lisa Middelhauve (vocals)
Philip Restemeier (lead guitar)
Steven Wussow (bass)
Gerit Lamm (drums)
Albums:
Xandria is a German symphonic metal band. They're my favorite in this subgenre and are easily one of my favorite bands overall. Like most symphonic metal bands, they've had a revolving door of vocalists.
Lisa Middelhauve
(Kill the Sun -> Salomé),
Manuela Kraller
(Neverworld's End), and the lovely
Dianne van Giersbergen
(Sacrificium,
Fire & Ashes
[2015 EP], and Theater of Dimensions) have all come and gone.
After Dianne, my favorite of their previous vocalists, left back in 2017, they toured with Aeva Maurelle for a little while, and their future was somewhat in limbo until Ambre Vourvahis joined the pretty much all-new lineup last year. My boy Marco Heobaum, the architect of the band, is the only original member left.
Their earlier stuff has a bit of a gothic vibe to it, and with Neverworld's End, they started to shift towards a more aggressive power metal sound that I absolutely love. Sacrificium is my current favorite album of theirs and is an absolute masterpiece as far as I'm concerned. The disappointment that I felt after learning that Manuela left the band quickly went away once I heard Dianne's voice on the opening track. Everything just blended together so perfectly on that album. I need to spend some more time listening to Theater of Dimensions, but it's very good as well.
I can't wait to hear their new album, The Wonders Still Awaiting. Ambre is so adorable, and from the little that I have heard of her so far, she has a lovely voice.
Ravenheart (title track from that album)
Valentine (from Neverworld's End)
The Lost Elysion (from Neverworld's End)
Stardust (from Sacrificium)
Betrayer (from Sacrificium)
Don't Say A Word (Sonata Arctica cover, from the Fire & Ashes EP)
Call of Destiny (from Theater of Dimensions)
Reborn (from The Wonders Still Awaiting)
Last edited: