Album:
HIgh Definition
Artist:
Vitalij Kuprij
Country of Origin:
USA
Genre:
Neoclassical Metal / Progressive Metal / Instrumental
Released:
August 26, 1997
Label:
Shrapnel Records
Purchase:
Here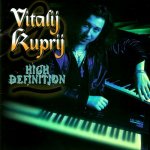 1.Beyond Infinity (1:54)
2.High Definition (4:04)
3.Symphony V (8:00)
4.Divided World (6:56)
5.Excerpt from Sonata in A minor (Mozart)(0:53)
6.Opus I (Theme by Paganini) (5:35)
7.Why? (8:19)
8.Parallel in Time (5:27)
9.Silent Destiny (2:14)
Personnel:
Vitalij Kuprij - All Keyboards, Acoustic Piano, Mixing
Greg Howe - Guitars, Bass, Production, Engineering, Mixing
Jon Doman - Drums
Kent Heckman - Mixing
Vitalij Kuprij is an accomplished composer, pianist, and keyboardist whom has played at Carnegie Hall, Alice Tully Hall, and Avery Fisher Hall. He is originally from Ukraine but now resides in the USA. Vitalij has won numerous awards for his compositions and grandiose musicianship. By the age of 19, Vitalij had begun his first progressive metal band, Atlantis Rising, which later morphed into Artension, an aggressive progressive metal band with outstanding piano/keyboard solos. During Vitalij's time with Artension, he began solo efforts and collaborations with several notable guitarists. The first guitarist he collaborated with and released an album with was Greg Howe, in 1997, "High Definition".
Greg Howe is no slouch when it comes to the guitar, actually, he is a virtuoso of shred and jazz . Greg's jazz style is immediately recognizable and unique. Greg is a left hand guitarist, and has adopted some extremely unique sounds and techniques. Not only does Greg have a successful solo career with 10 studio albums on his resume, he is very sought after as a session musician by pop artists like Michael Jackson, Enrique Iglesias, NSYNC, and Justin Timberlake. Greg has also had some pretty impressive collaborations with Richie Kotzen and Jordan Rudess.
I think you will be pleasantly surprised at how perfectly executed and heavy "High Definition" is. The compositions are complex with many layers, the guitar work is a shredder's delight, and the piano/keyboard solos are beyond words.
The compositions contain all the elements that make this music so grand; melody, harmony, structure, rhythm, precision, aggression, speed, synchronization, perfect execution, and sophistication. Every track on this album is exceptional! The energy these two musicians have together, along with the outstanding drumming from Jon Dornan, will undoubtedly set your ears on fire.
Symphony V
Divided World
My rating for neoclassical greatness:
(4/5)