Album:
The Night Creeper
Artist:
Uncle Acid & The Deadbeats
Country of Origin:
England
Genre:
Stoner Metal / Doom Metal / Heavy Psychedelic Rock
Released:
September 4, 2015
Label:
Rise Above Records
Purchase:
Here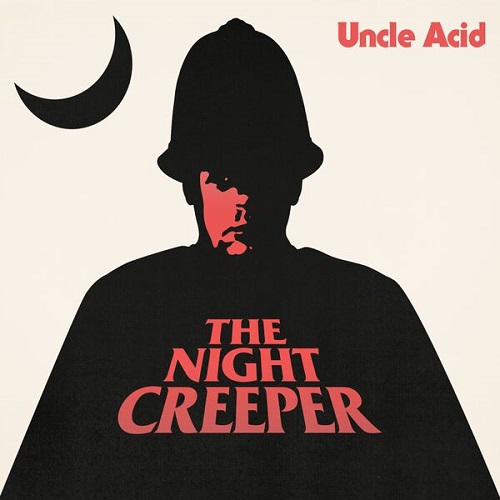 1."Waiting for Blood"
2."Murder Nights"
3."Downtown"
4."Pusher Man"
5."Yellow Moon"
6."Melody Lane"
7."The Night Creeper"
8."Inside"
9."Slow Death"
10."Black Motorcade"
Personnel:
Kevin Starrs – vocals, lead guitar, bass, keyboard, organ
Yotam Rubinger – guitars
Itamar Rubinger – drums
Additional musicians
Chantal Brown – backing vocals on "Downtown" and "Pusher Man"
Do you know Uncle Acid & The Deadbeats? Probably not. Let me tell you a bit about these gutter creeps with a penchant for all things pertaining to the occult, violence, death, blood & guts....all to make your spine tingle in the darkness. The Night Creeper is no exception. It is a 10 song story taking the listener down the path of a night stalker into murder, human erosion, and death with a doomy stoner approach.
The album opens with "Waiting For Blood", "Murder Nights", and "Downtown" which I find to have catchy beats and riffs with sludgy guitars and decent mid song solos. I find Kevin Starrs voice to be irritating with it's high-pitch, fuzzy, nasal quality. I get it, though, it sounds preternatural and is suppose to make you feel uncomfortable. Genius!! The story so far, has taken you into dark alleys and dive pubs in town where a slasher awaits his victims...
"Pusher Man" gets darker and doomier than the opening portion of the story. The music is louder and fuzzier and Starrs voice is even more irritating. Someone is going to die
when the hammer falls and the bullet flies in the city skies.
(The creeper is a drug addict)
Video of Pusher Man, compliments of
The Uncle Acid Channel
"Yellow Moon" is an instrumental interlude, leading deeper in the story giving the impression that all is safe and well. (The creeper is high and passed out?) Then comes the album highlight, "Melody Lane". The fuzzy, distorted guitars continue but are somehow precise. The story takes a twist and the creeper has the tables turned on him, he gets wounded....and the song fades, ever so slow.......(I am realizing at this point the night creeper is not a murderer, he is a creeper - a drug addict & sex pervert possibly)
Official Video for Melody Lane (this video is a bit creepy & disturbing)
"The Night Creeper" and "Inside" present you with more doom and death. At this point the story continues taunting you with night creepers, murder, and being trapped inside your own fears. The music has become monotonous, but not to the point I want to skip to the end. There is a nice sprinkling of a creepy organ, which helped to break up the monotony. (Is the murderer Melody Lane? Is she now stalking the creeper?)
"Slow Death" is a semi-ballad that chugs along for a little over 9 minutes. I like this song, especially once I searched for a
live version on YouTube
. It is best experienced live!!! I like the somber feel and the clear guitars on the live version. The vocals are also a lot clearer and easier to comprehend. This is definitely a stoner song with a very long 60's style jam. (I feel the creeper is going to die, either from his wound, drugs, or the killer finds him.)
"Black Motorcade" is a hidden track, that begins after a moment of silence from "Slow Death". It is the funeral procession in the rain. This song is basically a continuation of "Slow Death" (It is evident the creeper dies)
Overall, this album is good. I may have the story all wrong, but I listened to this album many times back to back, and that is my interpretation. The music is monotonous at times, offering nothing new. The production is unique; fuzzy guitars, sludgy guitars, but produced in a way to make them appear as a clear focal point. I find the nasal, unclear vocals irritating and really not to my liking, but if you listen to most of the songs live, you get a clarity that is a HUGE improvement.
Highlights: Waiting For Blood, Melody Lane, Slow Death
My rating: 3.5 / 5