Joined

Mar 28, 2018
Messages

454
Location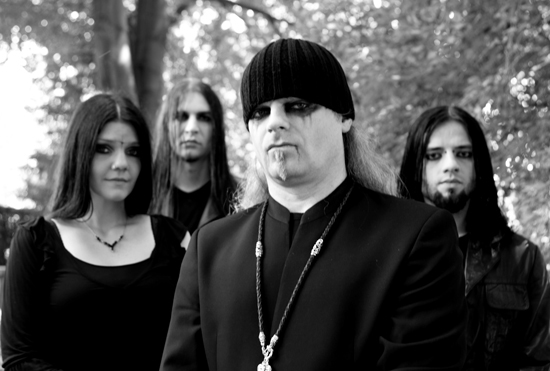 Official Website
Current members:
Thomas Gabriel Fischer, aka Tom G. Warrior (lead vocals, guitar)
V. Santura (guitar, backing vocals)
Vanja Slajh (bass, backing vocals)
Albums:
Triptykon is a Swedish metal band formed in 2008 from the ashes of Tom G. Warrior's previous band, Celtic Frost. As with Celtic Frost, I've classified them as a black metal band, but they don't play in the traditional black metal style. The occult lyrics and imagery are still there, to a degree, but sound-wise, they're more of a gothic/doom metal band. They pretty much picked up right where Celtic Frost left off with their excellent album
Monotheist,
which came out back in 2006. Their extremely heavy, cold, bleak sound provided the perfect soundtrack for me after my dad passed away back in 2011. If you're looking for a happy, bubbly pick-me-up, you'll definitely want to look elsewhere.
I own both of their LPs listed above and their
Shatter
EP, which was released in 2010. All of their work is nothing short of superb in my opinion. I dig everything about this band. Tom G. snarls out his deep, dark, often introspective lyrics with total passion and conviction while the angry, brooding guitars drone on behind him. I like Vanja's gentle vocals as well, and while she generally backs Tom G. up in that regard, she does take over the lead vocals on a few of the songs, which is a welcome treat. I love the whole atmosphere and mood of the music in general and the overall aesthetic of the band.
The crazy cover art for both of their albums was done by the late H.R. Giger.
Eparistera Daimones
is probably my favorite album of theirs, but the cover art is so obscene that I'm not even going to bother posting any videos/songs from that one on here. They're all very good, though. "My Pain" is a great, somewhat softer song (instrumentally) with Vanja front and center on the vocals.
They're currently looking for a new drummer to replace Norman Lonhard, who left the band in 2017. I'm very much looking forward to their next album, whenever it is released.
Shatter (title track from that EP)
Tree of Suffocating Souls (from Melana Chasmata)
Aurorae (from Melana Chasmata)
Breathing (from Melana Chasmata)