Joined

Mar 28, 2018
Messages

490
Location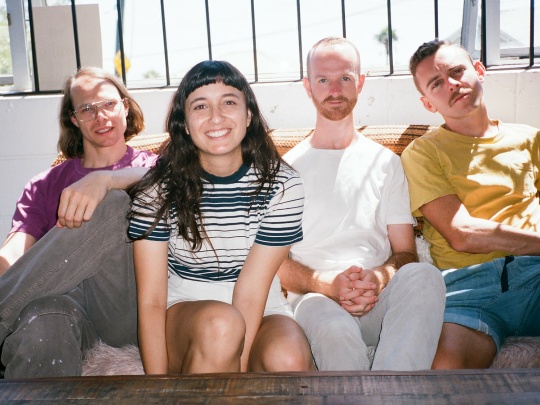 Official Website
Current members:
Elizabeth Stokes (lead vocals, rhythm guitar)
Jonathan Pearce (lead guitar, backing vocals)
Benjamin Sinclair (bass, backing vocals)
Tristan Deck (drums)
Former members:
Ivan Luketina-Johnston (drums, backing vocals)
Albums:
The Beths are an alternative/indie pop rock band from Auckland, New Zealand. They're one of my favorite bands both in this subgenre of music and overall. I stumbled across them a while back while looking for bands that sounded similar to my favorite alternative/indie pop rock band, Alvvays.
Alvvays and The Beths are my alt/indie rock yin and yang. Alvvays are generally more melancholy sounding, and The Beths typically have a more upbeat vibe. Their first album,
Future Me Hates Me
, is my current favorite. It rocks more than their second album,
Jump Rope Gazers
, which is a little more mellow, refined, and subdued. (That's not to say that
Jump Rope Gazers
is bad by any means, though - my current favorite song of theirs, Dying to Believe, is from that album.) Their newest album,
Expert In A Dying Field
, sounds like a nice blend of their approaches to their first two albums and might end up being my new favorite after I've listened to it a few more times.
Liz has an adorable, sweet voice. She sings tales of a sometimes unsure but earnest young woman doing her best to navigate her way through romantic feelings, love, and relationships. She's backed up by (and backs herself up with) great musicianship across the board. There are no weak links here. In particular, I really like Jonathan's guitar work. It's some of the best I've heard in this subgenre and quickly got my attention after Liz drew me in.
Has this stuff been done before? Yes, I'm sure it has. For me, the more important question is, is this band good at what they do? Yes, I think they are. Don't take my word for it, though. Listen for yourself.
Whatever (from Future Me Hates Me)
Future Me Hates Me (title track from that album)
Little Death (from Future Me Hates Me)
Less Than Thou (closing track from Future Me Hates Me)
Dying to Believe (from Jump Rope Gazers)
Expert In A Dying Field (title track and opening track from that album)