Album:
The Ritual
Artist:
Testament
Country of Origin:
USA
Genre:
Thrash Metal / Heavy Metal
Released:
May 15, 1992
Label:
Atlantic Records
Purchase:
CD Here
or
Vinyl LP Here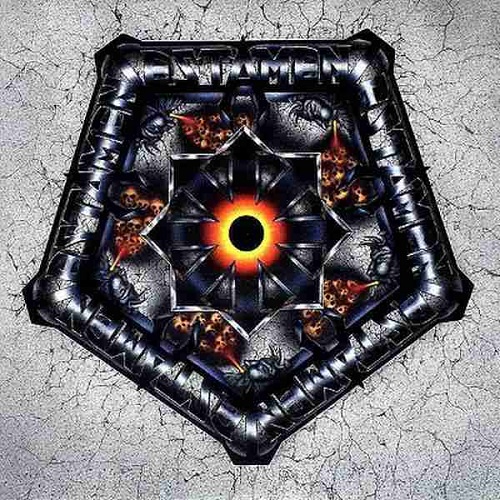 1."Signs of Chaos"
2."Electric Crown"
3."So Many Lies"
4."Let Go of My World"
5."The Ritual"
6."Deadline"
7."As the Seasons Grey"
8."Agony"
9."The Sermon"
10."Return to Serenity"
11."Troubled Dreams"
Personnel:
The Ritual is my favorite Testament album. There I said it!!! The Ritual gets a lot of mixed reviews and I can understand why, especially if you are a fan of the raw thrashiness and lightning speed of the early Testament albums. I like the early albums, too. In fact, I don't think Testament has ever made a "
bad
" album. I just happen to be a fan of a more melodic metal style....and The Ritual fits that bill. I don't feel like some critics, that the band compromised their genre to fit into a commercial society. The 90's was a tough time for all music genres, especially metal, which was moving towards a deep, dark, doomy, death metal style. I like the fact that Testament slowed things up a bit, added in some traditional metal riffs mixed with a slower tempo thrash. I would be doing Testament a disservice if I did not mention the fact that Chuck Billy's vocals and the guitar team of Alex Skolnick & Eric Peterson are virtuoso's....they can make anything sound awesome!
Album Highlights: Electric Crown, Let Go Of My World, The Ritual, As The Seasons Grey, and Return to Serenity.
The stand out on the album for me is the ballad, Return to Serenity. This ballad is one of the three killer ballads by Testament, the other two being "Ballad" and "The Legacy". I have always been drawn to ballads, especially ballads that are well written and stick in your mind for hours after hearing them, Testament has achieved this with Return To Serenity. Chuck Billy can sing a moody ballad better than any other vocalist in the thrash metal genre. The Ritual is another song that has a lot of moodiness, which is why the song is on the "highlights" list.
If you are looking for some good guitar playing, then you will enjoy Electric Crown and As The Seasons Grey. Skolnick & Peterson really shine on these songs. The riff in Electric Crown is exceptional, Skolnick nails it. Electric Crown, in my opinion, is one of the better songs because it is Testament at a more mature point in the band's career and chock full of thrash energy. I also really enjoy the grit & gruffness of As The Seasons Grey, the fade out ( or should I say Fake Out ) ending is also pretty cool.
My Rating: 4/5. The Ritual has some really good thrash elements in the songs Electric Crown and Let Go Of My World. The album also contains one of the most memorable thrash ballads, EVER. I think this album gets a bad rap from Testament fans, but then, I have also been told my music taste sucks.....LOL. At the end of the day, it's all good, as long as we are all listening to music.
LP Album Stream Compliments of Metal Blade Records:
Last edited: