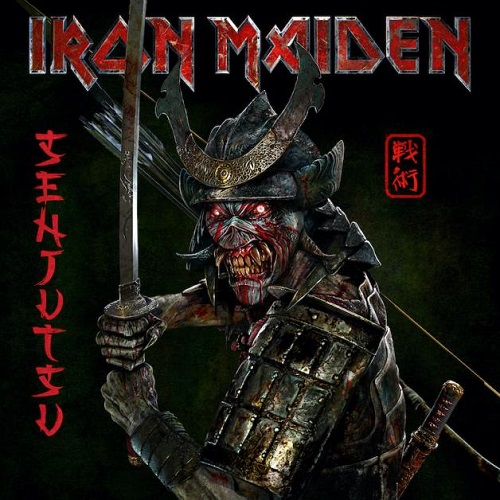 Senjutsu - Iron Maiden (England)
Heavy Metal
Tracklist:
Senjutsu

Stratego

The Writing on the Wall

Lost in a Lost World

Days of Future Past

The Time Machine

Darkest Hour

Death of the Celts

The Parchment

Hell On Earth
Lineup:
I have listened to this album twice now, which is not enough for a comprehensive review. However, I will give my initial thoughts.
Anytime that Iron Maiden has put out a new album, it is met with high anticipation. After all, it is one of my favorite metal bands. I look forward to seeing the album cover and how menacing or evil Eddie will appear.......Senjutsu's Eddie is no let down in his armor of metal, wielding a sword, and a vampish bloody smile.
I am very pleased with the music inside the album cover. The music is grandiose and self indulgent in quality. The whole album is moody and atmospheric. Nicko McBain seems to take center stage on the drums throughout the album. Bruce Dickinson's voice has fire and fury, he never disappoints. Steve Harris is one of the best bassists in music and he proves it while he keeps up the stride with the wall of guitars.
I never took the time to listen to the teaser track that was released. I dove straight into the full album. "Senjutsu" is an internal thumping that delivers the goods quickly and is a perfect opener for all the heavy meals to follow. Once I listened to the first single released, "The Writing on the Wall", I kinda knew why this was the teaser track, it is catchy and not as heavy with great guitar solos. I am glad to get a heart felt, beautiful ballad in "Darkest Hour". I'm feeling a bit of folk metal and prog in the songs as the album moves to "Death of the Celts" and "The Parchment". It would be safe to say that "The Parchment" is a prize piece of work.
Overall, the 6 year wait for a new album was worth it. Up the Irons!
8.5/10