Joined

Mar 28, 2018
Messages

490
Location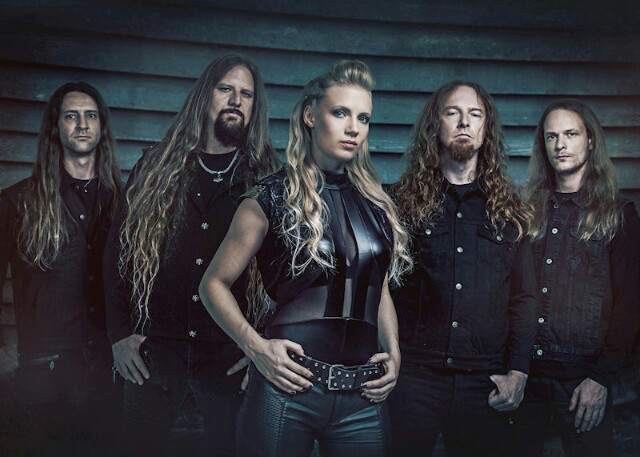 Official Website
Current members:
Elina Siirala (clean vocals)
Alexander Krull (growled vocals, keyboard)
Pete Streit (guitar)
Joris Nijenhuis (drums)
Thorsten Bauer (guitar, bass)
Notable former members:
Albums:
Leaves' Eyes is a symphonic metal band formed in 2003 by Norwegian singer Liv Kristine and Alexander Krull's German death metal band, Atrocity. Their sound consists of beautiful female clean vocals backed up by harsh male death growls on a melodic metal backdrop. Most of their songs are mid-tempo and tend to be more on the mellow sounding side, which made them the perfect gateway band into symphonic metal for me. Liv wrote most of the lyrics while she was with the band, and they tend to draw from her Norwegian heritage - they're generally about Norse mythology and are Viking-themed.
I've been a fan of theirs ever since I stumbled upon the video for "My Destiny," from
Njord
, on YouTube. It started off quite calmly, with a beautiful woman (Liv) softly singing in the woods while the rest of the band stood around, not doing anything. Having listened to black metal pretty much exclusively for a little over a year straight by this point, I was very skeptical and wondered if I had chosen the wrong path. Then, at a little over the 30 second mark, a very tasty guitar riff and the drums kicked in, and from that moment on, I was sold on them. I wasn't a big fan of Alexander's vocals, but Liv's sweet, soothing voice combined with the harsher instrumentation in the background won me over. I immediately bought
Njord,
and though it had some cheesy moments (in my opinion at the time), I thoroughly enjoyed it from start to finish.
I really liked the fact that Leaves' Eyes was a family affair. Liv and Alexander were husband and wife, and their son, Leon Alexander, was actually in a couple of their videos from
King of Kings
. Sadly, this wouldn't last forever, as even they would succumb to what I am convinced is the #1 rule of symphonic metal, which states that you must change vocalists like I change underwear. Alexander and Liv had an ugly, sudden split in 2016, and Liv was kicked out of the band. I'm not going to say too much more about it other than that or take sides on it, because there are two sides to every story, and I wasn't there. There's plenty of information/gossip readily available on the Internet if you feel like digging further into it. Liv is actually in Midnattsol now, which is her sister's band (Carmen Elise Espenæs).
Elina Siirala, a Finnish singer and vocal coach (and apparently second cousin of Nightwish's Tuomas Holopainen, which I just found out today) was brought on to replace Liv. Naturally, she (and the band, by proxy) promptly received a bunch of hate due to the personal stuff going on between Liv and Alexander, which I thought was totally undeserved. It apparently got so bad that comments have been disabled on all of the videos they've made since they left Napalm for AFM Records in 2015. I find the singer wars that some symphonic metal fans get into absolutely ridiculous, so suffice it to say that I liked Elina from the moment I saw and heard her in the video for "Edge of Steel." She's an adorable young lady with a lovely voice. What more can you ask for?
I like pretty much all of their albums. If you're just getting into them, I say start wherever you want. I had low expectations for
Sign of the Dragonhead
, given all of the turmoil surrounding the band and given the fact that it was their first album with a brand new singer, but it's actually quite good. Whenever I decide to put it on, I don't want to turn it off.
Here are a ton of videos. Check 'em out!
Farewell Proud Men (from Vinland Saga)
Elegy (from Vinland Saga)
My Destiny (from Njord)
Spirits' Masquerade (from Meredead)
Hell to the Heavens (from Symphonies of the Night)
The Waking Eye (from King of Kings)
Edge of Steel (from King of Kings - first video with Elina Siirala)
Across the Sea (from Sign of the Dragonhead)