0.00 star(s)
Rating: 0.00/5 0 Votes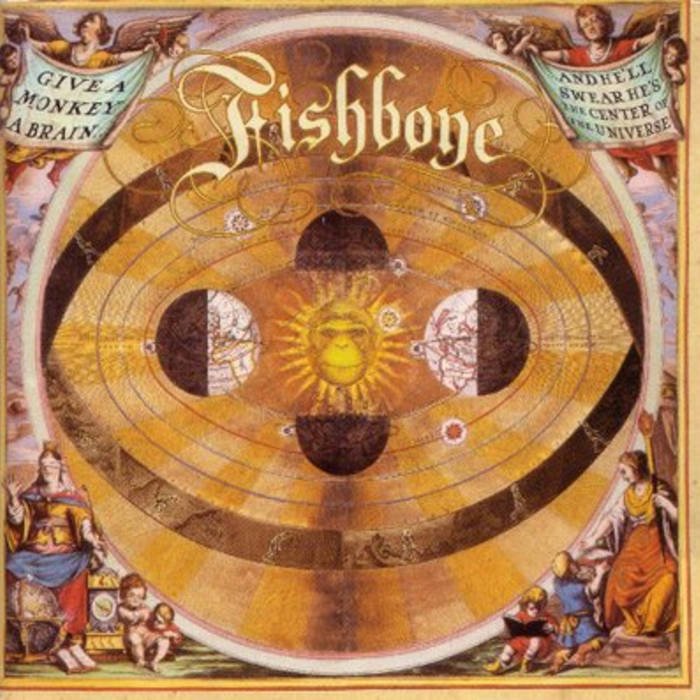 Title:
Give a Monkey a Brain...
Artist:
Fishbone
Genre:
Ska Punk
Released:
1993
Tracks:
1 - Swim - 4:39
2 - Servitude - 5:25
3 - Black Flowers - 5:46
4 - Unyielding Conditioning - 4:46
5 - Properties of Propaganda (Fuk This Shit on Up) - 5:24
6 - The Warmth of Your Breath - 4:57
7 - Lemon Meringue - 6:12
8 - They All Have Abandoned Their Hopes - 5:02
9 - End the Reign - 5:24
10 - Drunk Skitzo - 5:15
11 - No Fear - 6:02
12 - Nutt Megalomaniac - 5:46
Overview:
Give a Monkey a Brain and He'll Swear He's the Center of the Universe is the fourth full-length album from alternative rock band Fishbone. It is the last album to feature all six original members, as guitarist Kendall Jones left the band a few months after the album's release, and keyboardist/trombonist Chris Dowd would leave the next year.

It is Fishbone's heaviest album, with the band focusing on heavy metal without any trace of their trademark horn section until the fourth song, the ska-infused "Unyielding Conditioning". Saxophonist Branford Marsalis makes an appearance on the manic "Drunk Skitzo", and the ending of "Swim" includes excerpts of a Damon Wayans stand-up routine about his experience at a Fishbone concert.

Shortly after the release of the album, the band toured as part of the third annual Lollapalooza festival, but was dropped by Sony Records the following year.

A poster of the album can briefly be seen on the wall in a garage after 5.44 minute during the sixth episode of the first season of the TV series Six Feet Under.

The title is a quotation from the discordian religious text Principia Discordia.