Joined

Mar 28, 2018
Messages

490
Location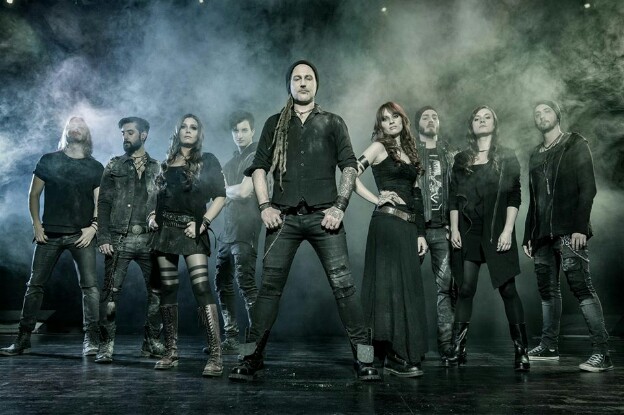 Official Website
Current members:
Chrigel Glanzmann (vocals)
Fabienne Erni (vocals, harp)
Rafael Salzmann (lead guitar)
Kay Brem (bass)
Matteo Sisti (bagpipes)
Nicole Ansperger (violin, vocals)
Alain Ackermann (drums)
Jonas Wolf (rhythm guitar)
Michalina Malisz (hurdy-gurdy)
Notable former members:
Anna Murphy (vocals, hurdy-gurdy)
Ivo Henzi (guitar)
Merlin Sutter (drums)
Albums:
Eluveitie are a nine-piece folk metal/melodic death metal band from Switzerland. Unlike Primordial, who are purely guitar based, they incorporate a ton of traditional folk instruments into their music, like flutes, bagpipes, a hurdy-gurdy, and more. They combine this with tasty Gothenburg-style riffs to create an awesome, unique sound that was unlike anything I had ever heard before I started listening to them. Chrigel handles most of the vocal work with raspy death growls, and Fabienne does the clean singing. (Anna Murphy did the cleans until Evocation II, when she, Ivo, and Merlin left Eluveitie and formed Cellar Darling.)
I've listened to all but their very first album, and every single one of them is very, very good. Like most bands, I feel that they've gotten better and better with time. I bought Everything Remains (As It Never Was) first, and I liked some of it, but their sound was just so different that it took me a while to get into. I was still fairly new to metal at the time and had a difficult time understanding what they were trying to do. Then I bought and listened to Helvetios after it came out, and all of a sudden, everything just clicked for me. I've loved them ever since.
Note: Evocation and Evocation II are both pure folk albums. I haven't listened to Evocation for a while, and it was all right, but Evocation II is friggin' great.
I could easily fill up this thread with videos, but I'll try to restrain myself. I absolutely love this band.
Inis Mona (from Slania)
Everything Remains As It Never Was (title track from that album)
A Song for Epona (from Helvetios)
The Call of the Mountains (from Origins)
Catvrix (from Evocation II: Pantheon)
Last edited: