Album:
Lightning to the Nations aka White Album
Artist:
Diamond Head
Country of Origin:
England
Genre:
Heavy Metal
Released:
October 3, 1980
Label:
Happy Face Records Re-issued 1992 by Metal Blade Records
Purchase:
White Album Vinyl
or
1992 CD
1992 Metal Blade Re-issue: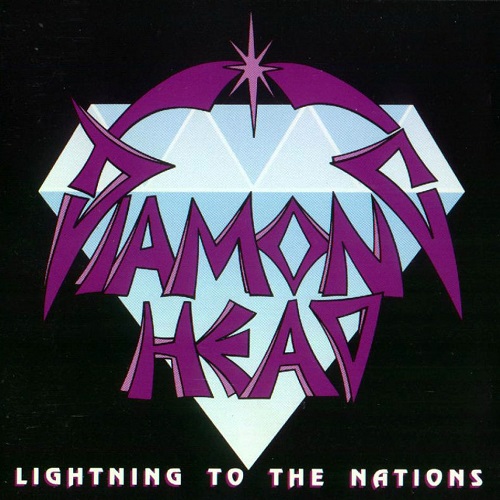 1."Lightning to the Nations"
2."The Prince"
3."Sucking My Love"
4."
Am I Evil?
"
5."Sweet and Innocent"
6."It's Electric"
7."Helpless"
Album Personnel:
Sean Harris – vocals, rhythm guitar on "Am I Evil?"

Brian Tatler

– lead guitar
Colin Kimberley – bass
Duncan Scott – drums
Lightning to the Nations is the debut album from Diamond Head. Diamond Head are among the plethora of new wave of British heavy metal (NWOBHM) bands to bring some of the most influential music to heavy metal fans in the late 70's and early 80's. Even though Diamond Head did not get the fame and fortune of other NWOBHM bands at the time of Lightning to the Nations release, this album went on through time to become a very influential album to thrash metal bands of the future. Metallica has covered 5 songs off Lightning to the Nations, which gave Diamond Head quite a powerful reputation as an influential band, and got Diamond Head's music noticed.
Diamond Head began in 1976 as a few boys in high school. What was so exceptional about these boys is they wrote and played original material. No big record labels took an interest in Diamond Head for their first release, so the band released Lightning to the Nations on a small record label in a plain white cardboard wrapper with no cover art or track listing. The album was later re-released by Metal Blade Records with cover art and a track listing.
The album got referred to as "Lightning to the Nations" because of the first track. This track has some great riffs and solos with some Led Zeppelin-like vocals. This song is the most original song off the album, IMHO. I honestly can't think of any song, past, present, or future, that sounds anything like this.
"The Prince" is a very fast paced song, the fastest on the album, with a few short bass solo's as well as short & long guitar solos and some keyboard back ground sounds. They packed this song with all the riffage they could!!
"Sucking My Love" is definitely influenced by Led Zeppelin. It is the longest song on the album and I read that it is the longest song Diamond Head ever recorded.
(source)
Another great song from the album.
"Am I Evil" is the highlight of the album. This is Diamond Heads signature song, and a damn good song to be identified by.........Yes, it's EVIL....making use of the "Devil's Note" and some really dark lyrics. Am I Evil is a masterpiece of dynamic song writing.
"Sweet and Innocent" is the fluffiest song on the album, an attempt at making a hit single. Reminds me of some of the songs you heard from the Sunset Strip of the 80's. This is the only weak spot in the whole album, IMO.
"It's Electric" is one of the oldest songs Brian Tatler and Sean Harris has written and recorded
(source)
. It has some fierce guitar work which makes the song fun to listen to.
"Helpless" is very fast paced with some short breaks of bass pieces and a thundering solo. A nice ending to the album.
Overall, this album is solid. Does it have the best production? No, but that is what makes the album outstanding...it's raw power. It is no wonder the album has proven to be so important and influential over the years, Sean Harris and Brian Tatler really knew how to write music for such young guys. I am thrilled that time has given Diamond Head the respect they did not receive back in the late 70's and during 1980 when this album was released.
My rating: 4.5/5.
Full Album, Enjoy!
Last edited: