Joined

Mar 28, 2018
Messages

444
Location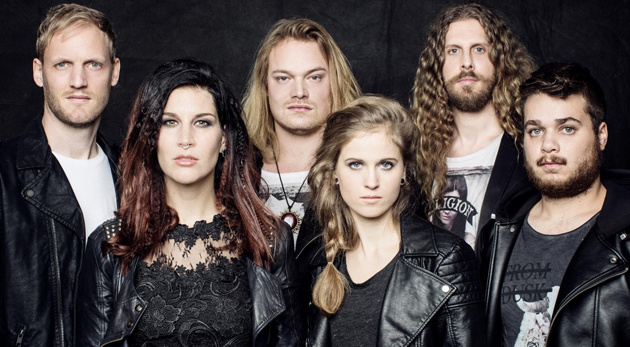 Official Website
Current members (from left to right):
Note: Ruben Israel (drums), pictured at the far right, left Delain sometime last year. They've been touring with Joey de Boer from Purest of Pain.
Albums:
Delain is a Dutch symphonic metal band. Martijn Westerholt and Charlotte Wessels started it up back in 2002 after Martijn left Within Temptation. They're actually one of the first metal bands I ever listened to, but it took me a while to really get into them. I bought Lucidity first, and while I couldn't really get into it overall, I liked the songs "Sever" and "Frozen" and thought that they had potential. I took a chance on April Rain, and despite the somewhat poppy love/relationship lyrics, it wasn't bad at all. I loved Charlotte's voice, and the instrumentation was pretty solid. They've gotten better with every subsequent album and are now one of my favorite symphonic metal bands.
As for their particular style, Martijn and Charlotte generally tend to set the melody with the keyboard and vocals while the guitars chug along behind them and handle the harmony. Their sound is perhaps a bit more simplistic than that of, say, Xandria or Epica, but that's not necessarily a bad thing. Their songs are catchy and have plenty of hooks in them, but not to the point of tediousness. Lyrically, as I previously mentioned, they started out with basic poppy stuff about love and relationships and whatnot, and they still talk about that in their songs, but they've evolved and have gotten a little deeper and more philosophical overall. For example, the song "Your Body is a Battleground" from The Human Contradiction is an attack on the pharmaceutical industry and talks about how we're all overly dependent on medicine. Marco Hietala from Nightwish was a guest vocalist on this one.
The Human Contradiction was a great album and is my recommended starting point for anyone who hasn't heard Delain before. "Stardust" was the first single that I heard from it, and it really changed the game for me as far as they were concerned. It elevated them from a band I kind of liked to a band I loved.
Moonbathers is my favorite album of theirs. Here are two of my favorite songs from it, "Suckerpunch" and "Turn the Lights Out." Lyrically, "Turn the Lights Out" sounds almost like something Nightwish would have put on their Endless Forms Most Beautiful album. It's so good.