Administrator
Staff member
Joined

Mar 27, 2018
Messages

2,130
Age

58
Location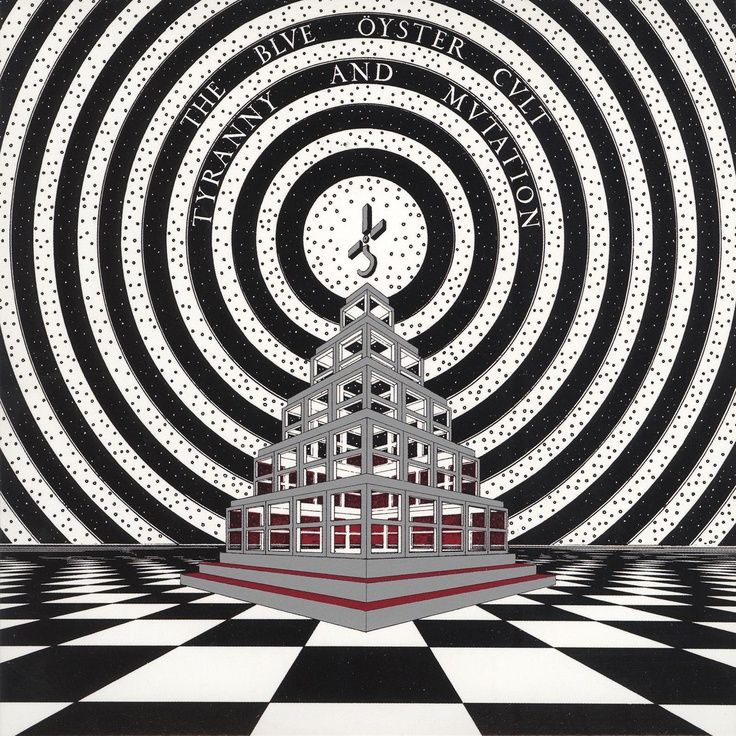 ​
The Blue Oyster Cult​
Tyranny & Mutation​
1973 Columbia Records (KC32017 Stereo)​
​
Produced by Murray Krugman & Sandy Pearlman​
​
Cover by Gawlik​
​
Realesed on February 11, 1973 Tyranny and Mutation was the second album from Blue Oyster Cult, formerly known as the "Soft White Underbelly". There are different storys regarding the origin of their current name. One is that it came from a collection of poems and scripts written in the 1960's by their manager, Sandy Pearlman. (The Soft Doctrines of Imaginos) In the poems, the "Blue Oyster Cult" were a group of people who were servants to aliens called "Les Invisibles". Another is that the name is an anagram from a beer bottle label "Cully's Stout Beer". Yet another story states that the name is a combination of a recipe found by Mr. Pearlman and the bands interest in the occult. It's interesting to note that internet searches for "Cully's Stout Beer" gets you nothing in the way of evidence that CSB was ever made, so the Cully's Stout Beer story is probably false even though numerous books and sites state it as fact.​
​
Band Members:​
​
Eric Bloom: Stun Guitar/Synthiesizers/Lead Vocals on tracks 1, 2, 4, 5, 8​
Donald "Buck Dharma " Roeser: Guitar/Lead Vocals on track 7​
Allen Lanier: Keyboards/Rhythm Guitar​
Joe Bouchard: Bass Guitar/Keyboards/Lead Vocals on tracks 3 and 6​
Albert Bouchard: Drums/ Vocals​
​
Side 1 (The Black)​
​
The Red & The Black:​
​
As mentioned in the review of BOC/BOC, The Red & The Black is basically the same song as "I'm on the Lamb but I ain't no Sheep". I'd say it's a very souped up version, lyrically it's almost identical. Musically, it has many similarities (some shared riffs) but can't really be called the exact same song. The song/s seems to be about Canada's Royal Mounted Police, the red & black being their color scheme (the first verse of the song) but later in the song there's this line, "Hornswoop me bungo pony, dogsled on ice" so it's about the mounties and the great white north with some gibberish thrown in to make things interesting. I think it's much improved over the original, and I'm certain that they (the band) did as well. It's a particularly odd move on their part to recycle a song from their first album, re-title it as a different song entirely, then instead of hiding it toward the end of the second side, they make the entire theme of the album revolve around the recycled song and give the recycled song a place of highest honor, first song, first side of the album, a very gutsy move Oyster Boys! With that said, I love this song. This song starts out in a way that's almost rude, like they're trying wake someone with narcolepsy. The Red & The Black rocks out with an efficiency and an energy that almost makes you feel tired when the song is over. It's fast, loud and really showcases the talents of all the band members.​
​
I give this song a 10 out of 10 (I forgive them for plagiarizing themselves)​
​
O.D.'d on Life Itself​
​
On the first three B.O' Cult albums (and Cultosaurus), each has a song on it that's so quirky and strange, it stands out, even though the entire album is kind of quirky and strange. On BOC/BOC that song is "Workshop of the Telescopes", on Secret Treaties, it's "Dominance & Submission". On T&M it's this song. O.D.'d starts with a very clean and simple riff that any beginning guitar student could play. It's when the bass and drums kick in that the song develops an off beat and eccentric grove that makes you go "WTF?" the first time you hear it. It's this quirkyness that makes it such a cool song. Like a lot of the music of BOC, it's an acquired taste. You may not like it the first time you hear it, you might not like it the second or third time. For me it was the eight or ninth time before I started to warm up to it. (listening to it with the assistance of a couple of mixed drinks helps to speed up the process) After having heard it hundreds of times, it's now one of my all time favorite BOC songs. Because of it's creativity, originality and quirkyness,​
​
I have to give this song a 10 out of 10 as well.​
​
Hot Rails to Hell​
​
Another song that rocks with efficiency. I particularly like the lyrics of this one. Assuming from the title, it's a song about riding in a miner's cart down to the depths of hell. But then there's this line "Stoned out looks from the crowd" that sounds like pretty much every concert I've ever been to, and certainly would've been their view from the stage at any one of their shows. BOCs lyric style is pretty odd. They don't really tell a story in a way that's narrative. Instead they use interesting phrases and words (along with the music) to conjure up images that may or may not pertain to the title of the song. In some cases it may just be that the particular verse sounds good with the music. In any case, it doesn't make their lyrics any less cool. The guitar work on this song is really great. It's nice when you have a keyboardist that doubles as a rhythm guitar player and a lead vocalist that's a master of "Stun Guitar". It makes it possible to have layers of guitar tracks on your studio songs and still be able to duplicate them in a live setting. Toward the end of this song you can hear elements of Buck Dharma's early influences, surf guitar. The double picked slides down the neck on the low-E sting from the upper registers are strait off the song "Pipeline"​
​
Awesome song! Scores a 10 out of 10​
​
Note: This song was released as a single with 7 Screaming Diz-Busters​
​
7 Screaming Diz-Busters​
​
Very strange and very cool, lots of different textures going on this one. Like everything else thus far, great guitar work. BOC was such a huge guitar band in the early days, this song is an absolute classic! I love the organ in the middle, it reminds me of a 60's "B" horror film. Diz-Busters is almost like a medley in that it changes so much through the course of the song. The lyrics are very strange, I have no idea what this song is about or what exactly a "diz-buster" is. It doesn't matter, it's a great classic song that defies any explanation that I can give.​
​
Scores 10 out of 10​
​
Last edited: