Album:
Black Sabbath
Artist:
Black Sabbath
Country of Origin:
England
Genre:
Heavy Metal / Psychedelic Rock
Released:
June 1, 1970 (USA)
Label:
Warner Brothers - Seven Arts Records
Purchase CD:
Here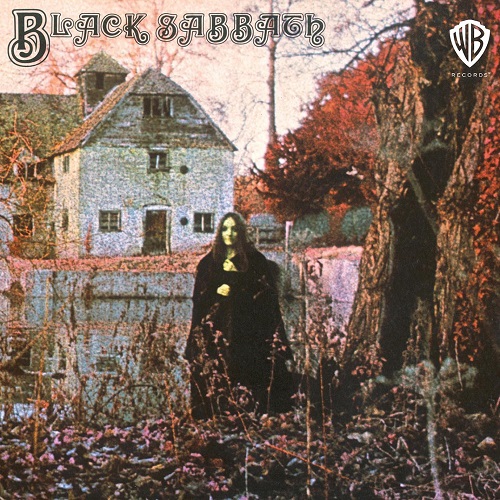 Tracklist: (North America)
Black Sabbath
The Wizard
Wasp
Behind the Wall of Sleep
Bassically
N.I.B.
Wicked World
A Bit of Finger
Sleeping Village
Warning
Album Playlist
In 1970 I was 10 years old and not even close to being ready to hear the darkness of Black Sabbath, however, my older brothers did listen to Black Sabbath. I can remember my mother telling them to turn that "Devil Shit" off....
Which is exactly how critics responded to the Black Sabbath debut album; Rolling Stone, 1970 stated " unskilled laborers like Black Sabbath, which was hyped as a rockin' ritual celebration of the Satanic mass or some such claptrap, something like England's answer to Coven. Well, they're not
that
bad, but that's about all the credit you can give them. The whole album is a shuck"
(source)
Despite the negative criticism, the album soared to the top of the UK charts and hit #23 on the US charts............The critics may not have liked the album, but it was the dark, heavy, and evil difference the fans were looking for. The songs were derived from uncensored evil lyrics and deep, doomy guitar tones.
From the first clap of loud thunder and the creepy church bells in "Black Sabbath" to Ozzy screaming "Oh No!Please God Help Me" in response to being persued by Lucifer.... the opening of the album lets the listener know what they are hearing is nothing like anything they have experienced before this album. The Black Sabbath song would go on through history as the first doom metal song.
"N.I.B." is a story about Lucifer falling in love with a human and his charming & poetic advances towards her. However, the song title has nothing to do with the actual song, Nib is the nick name Ozzy used for Bill Ward's beard. The riff to the song does appear to be a re-incarnation of a famous Cream song which is where some critics called Black Sabbath a Cream band, but worse. In reality the first 4 notes of the riff are identical but the next 6 notes are different, which makes the riff sound not only creepier but way more cool than that Cream song.
"Sleeping Village" is a song with a short lyrical beginning then progresses into a big jam session that goes into the 10 plus minute "Warning" which is also another huge jam session. Honestly, they could have ended the album at N.I.B. and I would be totally satisfied, but hey.....it was 1970, and everyone was jamming huge solos!!
If you look at the at the track list, I know you will be confused. A couple tracks that are listed as
songs
are actually intro's to the song that follows or maybe they are just some jams that Iommi busted out and decided to call them songs. I have no clue why they did this for the North American release. Maybe it was to create interest or just seem like they gave the US more than they did the UK.
My overall rating: 3.5/5. The album is a classic and of historical significance, but this is not one of Black Sabbath's best albums.
Last edited: