0.00 star(s)
Rating: 0.00/5 0 Votes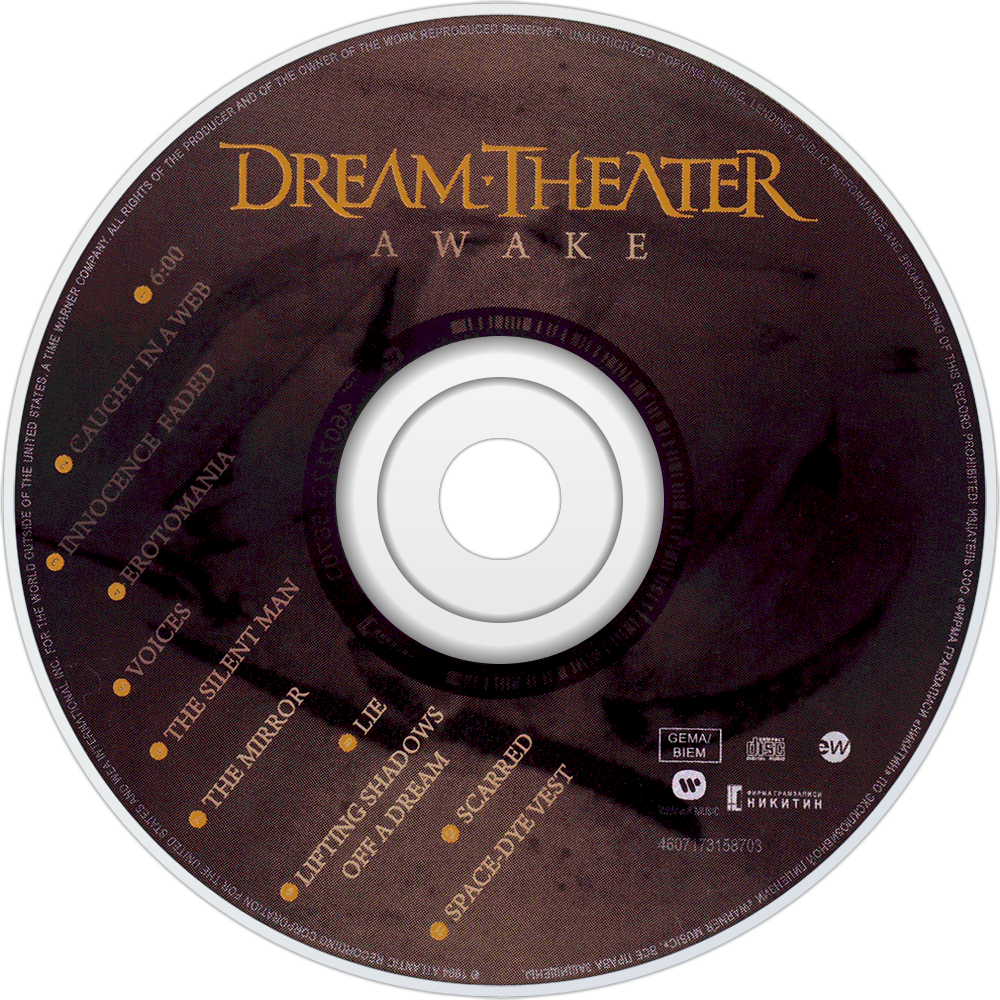 Title:
Awake
Artist:
Dream Theater
Genre:
Progressive Metal
Released:
1994
Tracks:
1 - 6:00 - 5:32
2 - Caught in a Web - 5:28
3 - Innocence Faded - 5:42
4 - A Mind Beside Itself: I. Erotomania - 6:44
5 - A Mind Beside Itself: II. Voices - 9:54
6 - A Mind Beside Itself: III. The Silent Man - 3:48
7 - The Mirror - 6:45
8 - Lie - 6:34
9 - Lifting Shadows Off a Dream - 6:05
10 - Scarred - 10:59
11 - Space-Dye Vest - 7:29
Overview:
Awake is the third studio album by American progressive metal band Dream Theater, released on October 4, 1994 by East West Records. It was the last Dream Theater album to feature keyboardist Kevin Moore, who announced his decision to leave the band during the recording of the album.

Much of the material for Awake was written in writing sessions between February and April 1994, during which Dream Theater were under pressure from their record label to produce an album as successful as Images and Words with a single similar to "Pull Me Under". The label wanted the band to produce a more metal-oriented album, hoping it would be easier to market. John Purdell and Duane Baron produced, engineered and mixed the album. The album's cover, designed by the band, features numerous references to the album's lyrics.

Dream Theater auditioned for keyboardists to replace Moore for the upcoming world tour and eventually hired Derek Sherinian. He had just two weeks to learn two hours of complex music before the tour started. Sherinian initially took up the position on a trial basis and was asked to become a full member during the tour. After the first leg of the tour, vocalist James LaBrie suffered a violent case of food poisoning, severely damaging his vocal cords. His singing became unpredictable, leading LaBrie to become depressed for much of the tour. His voice only started recovering on the tour for Six Degrees of Inner Turbulence in 2002. The Great Hanshin earthquake hit while the band was touring in Japan.

Released at the height of the popularity of grunge music, Awake received mixed reviews; more recent reviews regard the album as one of the band's finest. The album peaked at 32 on the US Billboard 200, the highest position a Dream Theater album would reach on that chart until 2007's Systematic Chaos. "Lie", "Caught in a Web" and "The Silent Man" were released as singles but failed to be as successful as "Pull Me Under" had been. The band's record label considered the album a commercial failure, which would lead to the band being pressured to write more radio-friendly songs on their next studio album, Falling into Infinity.