Album:
Facelift
Artist:
Alice In Chains
Country of Origin:
USA
Genre:
Grunge / Alternative Rock / Hard Rock / Alternative Metal
Released:
August 22, 1990
Label:
Columbia Records
Purchase:
Here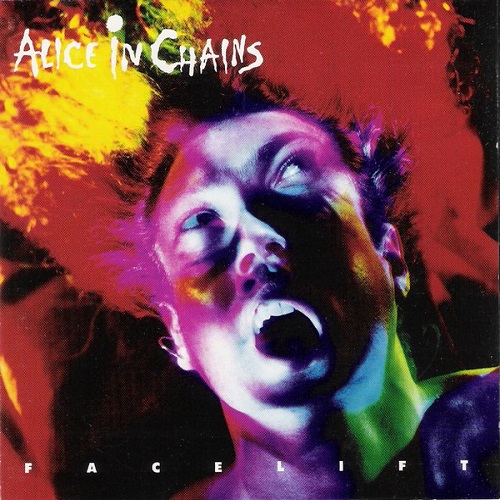 01. We Die Young
02. Man in the Box
03. Sea of Sorrow
04. Bleed the Freak
05. I Can't Remember
06. Love, Hate, Love
07. It Ain't Like That
08. Sunshine
09. Put You Down
10. Confusion
11. I Know Somethin (Bout You)
12. Real Thing
Personnel:
•Layne Staley – lead vocals
•Jerry Cantrell – guitar, backing vocals, talkbox on "Man in the Box"
•Mike Starr – bass, backing vocals on "Confusion"
•Sean Kinney – drums, percussion, additional backing vocals, piano on "Sea of Sorrow"
The debut album from Alice in Chains which brought us the hit "Man in the Box". Back in the early 90's, I was more of a radio listener than a person who bought albums or CD's, therefore, I got exposed to AIC with the hit song on the radio. I actually liked "Man in the Box", a throbbing beat and distorted sound which would later go on to define AIC. Our local college radio station, which was run by students, would play other songs off this album, like "Love, Hate, Love" and "Sea of Sorrow", which have outstanding and unique vocals, and some great guitar riffs. I had no clue I was quickly becoming a grunge fan. I like the distorted, sludgy, deep guitars. I also like the slower tempos and darker lyrical material. AIC also has great harmonies and melody in their music, which has a great appeal to me since I am a big fan of melodic rock and metal. AIC went on to become my all time favorite grunge band with Pearl Jam and Soundgarden coming in right behind them as favorites. One aspect of the grunge movement I really liked was the fashion….or lack there of. Flannel shirts, t-shirts, jeans; never anything fancy or glitzy. I was very content in the early 90's to look frumpy and I could easily relate to the stage presence of these grunge bands who looked and sounded "Normal" to me.
Facelift borders on being a heavy metal album, IMO, with the short, but killer distorted guitar solos from Cantrell, especially in the song "Sea Of Sorrow". Facelift is easily one of my favorite albums from Alice In Chains. MIke Starr and Layne Staley will always live on as grunge gods as long as we have an album as fantastic as Facelift.
full album:
My Rating: 4.5/5